Company Profile
Corporate Name
NISSIN SYSTEMS Co.,Ltd.
Established
JULY 2nd 1984
Office

■Head Office
 293-1,Ayahorikawa-cho,Ayanokouji Sagaru,Horikawa-dori,
 Shimogyo-ku, Kyoto,600-8482 Japan
 Phone +81-75-344-7880 / Fax +81-75-344-7901

■Tokyo Office
<After April 4, 2022>
 19th floor KANDA SQUARE
 2-2-1 Kandanishikicho, Chiyoda-ku, Tokyo, 101-0054 Japan
 Phone +81-3-6739-9717 / Fax +81-3-6739-9721
<Until April 1, 2022>
 1, Kandaizumicho, Chiyoda-ku, Tokyo, 101-0024 Japan
 Phone +81-3-5825-2081 / Fax +81-3-5821-1259

Capital
30million yen
Board of Director
President and Chief Executive Officer
: Yoshikazu Takeuchi
Director
: Kenji Kobayashi
Director
: Tsuyoshi Okado
Statutory Auditor
: Naoyoshi Akashi

Executive Officer

: Toshiaki Ishikura

Executive Officer

: Katsuhide Sakai

Executive Officer

: Toshiyuki Yamada

Executive Officer

: Nobuo Komatsu

Executive Officer

: Hiroya Furukawa
Number of Employees
221
Annual Sales
3,282 million yen (2020)
Business Line

Development of Energy management System.
Program of SCADA software of electric power transmission,distribution, water supply, highway control.
Program of Embedded System.(DeviceDriver, OS/BSP Porting, Middleware, Application).
Sales and support of RealTimeOS (Embedded Linux, μITRON),Middleware(Network Protocol etc.),integrated development environment and Network device server.
Design & development of system application software, and basic fundamental & application software for embedded devices.
Sales & technical support of embedded system development tools.
Sales & technical support of LAN/WAN products for device & system networking, and network device development.
Business Overview
The evolving world of computers is undergoing a major change, from an era of communication between Man and Machine to the M2M (Machine to Machine) era. Nissin Systems contributes to the people, environment and society of this period by providing a vast range of solutions based on its wealth of experience in embedded, networking and software development.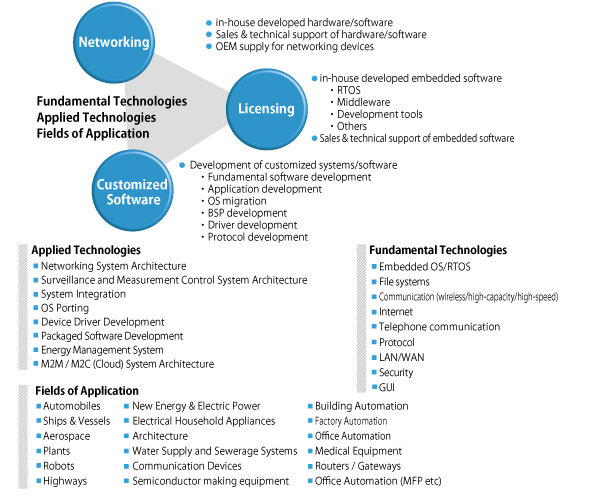 Approach of Nissin Systems to New Businesses
As national countermeasures to [Global Warming], we have enforced and reviewed concrete policies in 2008 through the Ministry of Economy, Trade and Industry, while keeping the balance between Environment, Economy and Energy. Shortly thereafter, the Great East Japan Earthquake and the power shortage from the resulting nuclear power plant damage have accelerated the need for visualizing power consumption and energy saving (CO2 reduction).
Using surveillance, control and networking technological capabilities developed over time, our company has achieved energy amount visualization and measurement. By helping create an environment which enables the efficient use of an important resource, we contribute to the betterment of society.

Product & Technology Offerings
Software Offerings
● On December 2011, the Ministry of Economy, Trade and Industry recommended the [ECHONET Lite standard] as the standard protocol to connect household devices. We immediately developed [ECHONET Lite standard]-compliant middleware, now available in the HEMS market.
Hardware Offerings
● HEMS devices to achieve home power consumption [measurement] and [visualization]
● HEMS Server and HEMS Adaptor for home power consumption data management, Development kit for easy [ECHONET Lite] development
Customized Development Proposals
● Through customized development for the EMS market including HEMS, we respond to the various needs of our clients.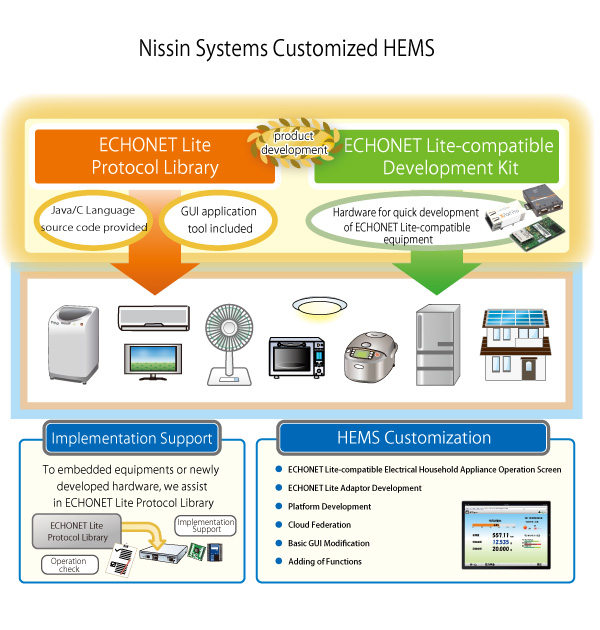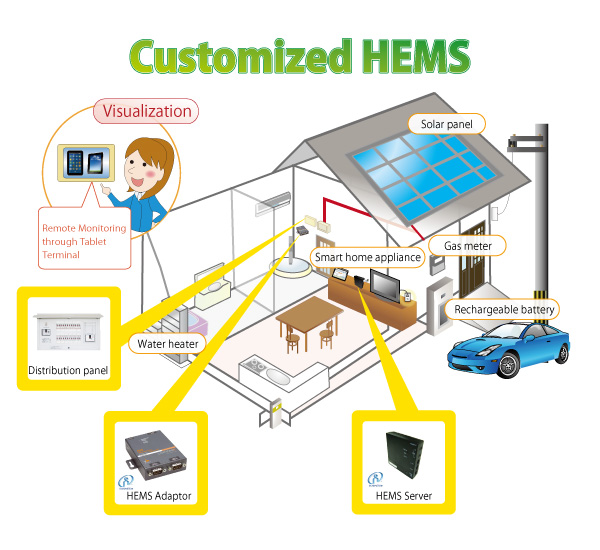 Nissin Systems Fields of Specialty
Embedded software development
Semiconductor manufacturing equipment and related devices & systems
Building automation systems
Automobile manufacturing-related systems
Multimedia and digital home appliances
Networking devices
FA and industrial equipment
Real-time processing software development
Embedded Linux, μITRON, related, OS migration, device driver development
Real-time communication software
Networks
Device Networking
LAN/WAN product development, import and value-added sales
Protocol &stack development
Others
Software PLC
The NSS Approach
Nissin Systems has 3 types of approach to accommodate the rapidly growing embedded market. First is our approach to trend technologies. Secondly, an approach to the elemental technology necessary in embedded development. And third is an approach to proposals by utilizing our extensive embedded development experience. Nissin Systems works toward the well-balanced development of all 3 branches!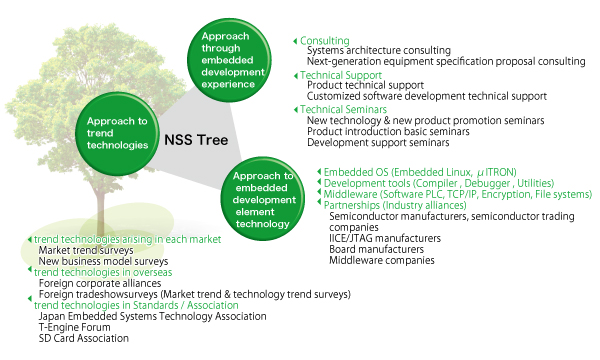 The world is moving towards a recycle-based society architecture. With all our employees united as one, we also strive to reduce the environmental burden from our corporate activities, and pursue social contributions to solve our environmental problems.
Our basic environmental philosophy and course of conduct are introduced below.
Basic Environmental Philosophy
Nissin Systems CO., Ltd., true to our slogan of [People-friendly Software], will have the basic philosophy of contributing to society through human resource development and superior technology.
In addition, as a member of the Nissin Group, I am fully aware that the company is a member of society, and thus with honest and transparent corporate behavior, through harmony with the environment and active social contribution, I, as a decent citizen, am dedicated to building a truly enriched community.
Course of Conduct
From company product design to the production and shipment stages, we are accurately aware of the environmental effects of our corporate activities, and approach the items below as themes of major emphasis.
(1) While observing environmental laws and regulations, we strive for the improvement of environmental conservation.
(2) We aim for recycling and reduction of industrial wastes with high environmental load.
(3) We aim for the efficient use of equipment and lighting, waste elimination, and energy conservation.
(4) We strive to prevent environmental pollution by managing the purchase, shipment & disposal of parts & equipment which use materials harmful to the global environment.
While recognizing our obligation towards environmental conservation, its social responsibilities, and our client's needs, we aim for continuous improvement & growth.